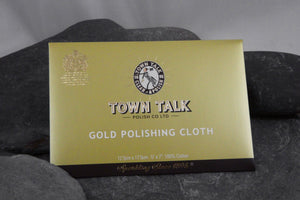 With the proper care, your Lucy Symons Jewellery will be by your side, for many years to come but metals do tarnish and that's completely natural. These reusable Town Talk Polishing Cloths are my absolute go to and part of my essential care routine to keep my jewellery looking like new!
They are impregnated with cleaning agents specifically designed for solid Gold, which will restore and preserve your pieces of jewellery. They are a great addition to your general jewellery care regime (look in the Jewellery Care FAQ for some essential advice).
Each cloth is made from 100% soft cotton, measures 12.5 x 17.5cm and is presented in a card wallet for protection and storage.