Commissions
Commissioning a bespoke piece of jewellery is the perfect way to spoil someone special, to celebrate a momentous milestone or to create that perfect piece of jewellery that's so clear in your mind but so elusive to find!
Our bespoke design service will bring your vision to life. Whether it's a completely new design, or adapting an existing one, we'll guide you through the process and create something special for you to treasure!
If this sounds like something you'd be interested in, get in contact and let's chat!
hello@lucysymonsjewellery.com
​Tel. +44 7919556963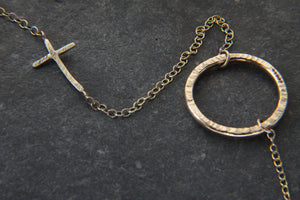 Gold Circle and Side Cross Necklace
This necklace was commissioned by a customer who had bought from Lucy Symons Jewellery before, but wanted a design made in Gold. This was a very personal experience with the customer, we were creating her vision, albeit inspired by an existing design. We were able to take that vision and make it a reality. To experience her excitement of seeing it come to life was almost infectious and very rewarding!
"Lucy listened and used her knowledge to create my vision to perfection. Nothing was too much, I know Lucy only wanted to create the perfect piece for me and I am so grateful to her"
Bronze Wedding Anniversary Pendant
This pendant was commissioned as an 8th wedding anniversary gift from a thoughtful husband. The anniversary theme was 'Bronze' and so that formed the basis of the brief. After talking about his wife's taste in jewellery, we suggested using a beautiful and unusual Calcite stone with Bronze veins. For added detail, the bail of the necklace was formed from the number 8 to represent the years of marriage. The customer was delighted with the finished design and most importantly, his wife loves it!
​
"You did a great job designing and making it - the finished product is unique and beautiful! The perfect gift for our anniversary, I don't think she's stopped wearing it since I gave it to her."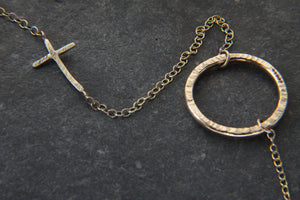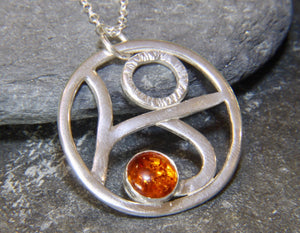 Amber Custom Design Pendant
This pendant was commissioned as a gift and designed to complement an existing piece of jewellery. It incorporated a favourite Amber gemstone. Woven within the design was a very sentimental message for the wearer. The recipient got in touch with the most wonderful feedback, which means so much!
​
"It's perfect and my ​most treasured gift. Beautiful"
The Sea
The brief for this commission was 'The Sea.' A rather romantic husband wanted something special for his wife's 30th birthday, which was being celebrated in the Maldives. The design for these earrings focussed on water... The tear drop base shape emulates a drop of water. Inside the waves were layered behind each other which gives them some perspective and depth. These statement earrings were complemented by a necklace and most importantly, the customer and his wife were very pleased!

"Lucy created two custom pieces for my wife's birthday. Her ideas, communication and final product were fantastic."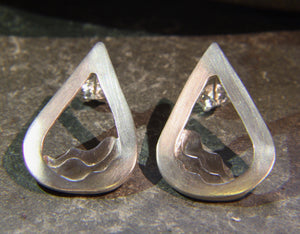 Contact me for more...