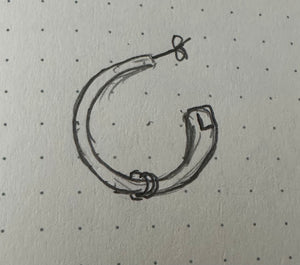 This is a custom order for LH for a pair of customised hoops. 
The hoops will have an ear post fixing with a butterfly clasp. They will be made from round shaped wire, with a thickness of 1.5mm. The hoops will be 2cm in diameter at their widest point. 
Threaded over each hoop will be 3 smaller hoops entwined. Acting as a 'stopper' to prevent the smaller hopps falling off, the end of the larger hoop earrings will be flattened, creating a wider, thinner area. This will be personalised with a small, hand stamped letter 'L'. The hoops will have a polished finish. 
* Unlike machine laser engraving, with hand stamping the lettering of choice is created by the blow of a hammer on steel punches. It's not as precise as engraving and so irregularities and variations in the text are to be expected. Letters may not always be perfectly aligned and some letters may strike deeper than others, but that also makes each piece so unique.
 ** Free Uk postage included
** Custom orders are not eligible for refunds unless faulty.